Brand New WWE Title To Be Introduced On Raw Tonight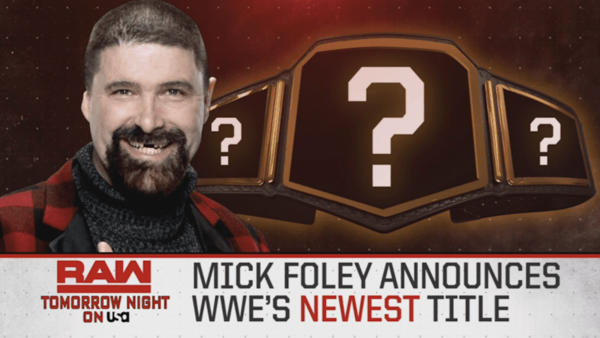 Mick Foley will announce a brand new WWE Title on tonight's edition of Monday Night Raw.
The potentially huge news was broken during Sunday's Money In The Bank pay-per-view with the reveal of the above graphic and Foley's grinning mug, though no clues were given as to what or who the new prize might be for.
The story comes at a particularly odd time for the organisation, with roster members floating relentlessly across both brands and several existing titleholders not enjoying the highest of profiles in their roles. The company have long had an abundance of championships, but Sunday's pay-per-view painted a damning picture of several straps.
Raw Tag Team Champions Zack Ryder and Curt Hawkins weren't on the card, whilst SmackDown Live equivalents Daniel Bryan and Rowan only made it to the Kickoff for a non-title scrap. Better that than sit out the show entirely like The IIconics did, viewing the event from WWE's in-house watchalong service. Elsewhere, Intercontinental Champion Finn Bálor didn't bother bringing his belt to the ring before the Ladder Match main event, whilst both the US and SmackDown Women's title were won and lost in the time it normally takes 2019 Mick Foley to hobble down to the ring.
Twitter speculation was rampant about the possibility of a prize relating to the women's division, Wild Card rule and Foley himself. All (theoretically, at least) should be revealed on the flagship.