11. Curtain Raisers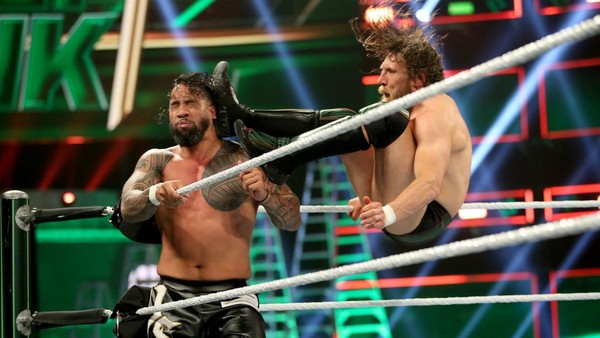 It was hard to overlook the bizarre sight of Daniel Bryan on the Money In The Bank pre-show, even if there was an old familiar feeling to The Usos knocking out an absolute banger before the pay-per-view began.
The commentary team used the contest to try and explain away the mess the Wild Card rule had made of the rosters in the past month, but more fool them for not spending more time paying loving tribute to the former WWE Champion, his worthy partner and the former SmackDown Live stewards. Such was the reality of the situation - some of the luxurious work was literally squeezed into a corner by an advert for matches elsewhere on the card, but the snubs didn't temper the efforts of the dynamic duos.
It was at its worst as Rowan and The Usos grapped over a double superplex to the soundtrack of the scary voiceover man telling us Money In The Bank was free for new subscribers, but the trio thankfully saved the bump for the "back to live action" moment.
A clean Double Uce victory put the brothers back in line for a shot at the planet's tag team champions, almost as if their recent bantering off of The Revival was entirely based on internal spite.